11 Mid-Century Read-Alouds for Middle Grades
Are you looking for a good read-aloud with a slightly different flavor? If you're tired of dystopian fantasies for middle graders, look to the past for something interesting, fun, and pre-Internet. Your kids or students might be fascinated with the way kids lived in the middle of the last century. Such freedom! Such independence! Such interesting pastimes. The following books are great read-alouds, for both the listeners
and
the reader. You don't have to wait until bedtime. You can do like my dad did when I was growing up: read to the people who are doing the dishes after dinner.
THE ANIMAL FAMILY by Randall Jarrell (Grades 3-7)
1965
This allegorical story explains the need for community in a very colorful way. A lonely hunter marries a mermaid, and the couple adopts a bear cub, a lynx, and an orphaned child.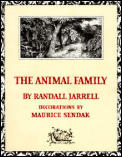 FROM THE MIXED-UP FILES OF MRS. BASIL E. FRANKWEILER by E.L. Konigsburg (Grades 4-7)
1967
An intelligent, independent girl talks her little brother into running away with her and taking up residence at the Metropolitan Museum of Art in New York City.
GENTLE BEN by Walt Morey (Grades 3-6)
1965
An Alaskan boy forges a friendship with a brown bear and shares many adventures with him.
HURRY HOME, CANDY by Meindert DeJong (Grades 2-6)
1953
This story chronicles a dog's first year of life, from the moment it is taken from its mother's side until it has successfully learned to love its new family.
THE LION, THE WITCH AND THE WARDROBE by C.S. Lewis (Grades 3-6)
1950
Four siblings discover a passageway to another world through a stuffy wardrobe closet in World War II England.
MY SIDE OF THE MOUNTAIN by Jean George (Grades 3-8)
1959
City boy Sam Gribley describes his year as a runaway in a remote part of the Catskill Mountains. He has to learn to live off the land in order to survive.
OTTO OF THE SILVER HAND by Howard Pyle (Grades 5-8)
1967
Set in the Middle Ages, this story describes a young boy's journey from a life of cruelty to something better.
THE SEARCH FOR DELICIOUS by Natalie Babbitt (Grades 3-7)
1969
An argument between the King, Queen, and their court over the meaning of the word "delicious" sends the Prime Minister's son out to poll the kingdom on the commoners' opinions of the word.
THE TWENTY-ONE BALLOONS by William Pene du Bois (Grades 4-6)
1947
A retired teacher tries to sail a balloon across the Pacific Ocean but crash lands on the island of Krakatoa. He is imprisoned and must try to escape.
WHERE THE RED FERN GROWS by Wilson Rawls (Grades 3-7)
1961
A boy growing up in the Ozarks wants a pair of hounds more than anything. He turns them into first-class hunting dogs and learns many poignant lessons along the way.
THE (WONDERFUL) WIZARD OF OZ by L. Frank Baum (Grades 1-5)
1956
The first American fairy tale, this book tells the story of a Kansas girl who is transported to a magical land where she makes friends, finds her courage, and learns about herself.